Go Paperless -
Go Green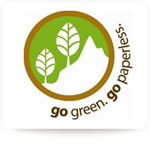 Should your event go paperless? Is it even possible? The short answer, YES and it's not that difficult with Event Essentials.
Using Event Essentials' Volunteers, Vendors and Sponsors modules you can reduce paper clutter by doing away with printed out and faxed-in signup sheets, which virtually eliminates most, if not all of your paper files. You can access documents, manage vendors and volunteers and find all your data faster and from anywhere you can go online.
You also prevent the possibility losing all your valuable data if your hard drive hits the fritz,
and as an added bonus there a lot easier to search for!